Carving a Niche in Australia
for over 30 years
We pride ourselves on our work ethic that is easily achieved when everyone is family.
Carving a Niche in Australia
for over 30 years
We pride ourselves on our work ethic that is easily achieved when everyone is family.
Underpinning & Shoring in Coogee
Eastside Piling is a family owned business that has over 30 years experience. We pride ourselves on our work ethic that is easily achieved when everyone is family. We proudly service the Eastern Suburbs, however our jobs have taken us all over Sydney. All of the employees at Eastside Piling have extensive knowledge and experience to ensure each job is completed with professionalism, quality and safety.
Shoring is a commonly used term in the construction industry that is a process to support a structure that is prone to collapse. So, be it a wall of an old building prone to collapse or an excavation site, where the walls are susceptible to fall at any time or new construction, where the concrete is yet to dry completely, you need to support such structures. So, for stabilizing any structure be it temporary, semi-permanent, or permanent structures, you need shoring. Shoring is used during the first stage of construction viz excavation where there is a risk of a wall collapse
Shoring is essential for the following purposes:
Better safety during construction
Reduced risk of wall/trench collapses thereby enabling faster work
Lower costs and peace of mind
Eastside piling is one of the most trusted shoring company in Coogee for performing shoring operations of all kinds. Over the years of our operations, we have developed expertise in the field of shoring and have been able to carry out complex and difficult to perform shoring operations all over Coogee. At Eastside piling, once we undertake a shoring task, we assign the task to our structural experts who thoroughly analyze every aspect of the site. They examine the load of the structure, the type of soil, the water content in the soil, and space availability to come up with the right kind of shoring to be installed for the site.
We are experts to create shoring using stainless steel, iron, aluminum, and a variety of other strong materials. Various types of shoring tasks that our structural experts can provide to include:
H/I Beam Shoring or Soldier pile – These are horizontal or vertical prefabricated steel structures that support walls (H – Beams) or floors (V – Beam). These types of shoring are generally used for small excavation work to support.
Secant Pile Shoring – For deep excavations and where there is not much space for carrying out open excavations, our experts use secant pile shoring in which a combination of two intersecting piles are constructed.
Contiguous pile shoring – These are used for soil structures where there is no water. In this type of shoring, we install piles almost touching each other to support a structure. Since adjacent piles touch each other like tangents, these are also called tangent shoring.
Sheet shoring – These are generally used for creating basements where there is a possibility of coming across the water.
Diaphragm Walls- For extremely deep excavations, to support large weights, depending on the load to be resisted, a reinforced concrete wall called a diaphragm wall is created.
The most common methods to carry out shoring operations are hydraulic or pneumatic depending on the load to be resisted, the soil type, and the type of shoring to be installed.
At Eastside piling, we give utmost importance to the safety of the operations. We follow all the guidelines prescribed by statutory authorities and ensure that all the piles and shoring done by our company are of the highest standards. All our employees are trained to carry out safe and efficient, precision-driven excavation work.
Eastside Piling specialists are often chosen as we are the leading piling contractors for Coogee projects. We concentrate on the Bored Piling market.
We are a leading organisation as we have over ten years of industry experience working in commercial, residential, and mining projects Australia wide. Our local group is built from a strong and skilled structural construction foundation and incorporating solid project management abilities. Our underpinning services, spotters, and drivers in Coogee are specifically utilised to guarantee that each project is delivered securely and with a high quality, cost-effective approach.
WHAT WE CAN DO
Eastside Piling offers a wide range of underpinning services that can accommodate an extensive geographical area throughout Sydney's eastern suburbs and metropolitan areas. Our analytical approach and expertise enable us to deal with unraveling complex site issues. We are enthusiastic about teaming up closely with owner-builders, builders, engineers, geo-tech engineers, and planners to structure and finish the many complex needs of each property we work with.
We love a good challenge – each project will be completed enthusiastically
Core Business
The core business of Eastside Piling is in the underpinning marketplace; we are especially dynamic in growing new markets and conveying front line Foundation Systems to the commercial center.
Research and Development
Eastside Piling has a solid spotlight on Research and Development to guarantee that all our items are completely tested and compliant with all applicable building standards.
The Journey
Eastside Piling has been working in the construction industry in Coogee for many years. Eastside Piling is a dynamic force in all areas related to foundations and underpinning projects all over Australia.
Our Innovative Minds
Eastside Piling has recently undergone a significant restructure and we have found the most brilliant and imaginative personalities from a range of leading businesses and industries. Eastside Piling is an organisation that is centered around delivering jobs to our customers on schedule and budget. We understand that giving an outstanding degree of customer service will be one of the outstanding points of difference compared with our competitors
So, if you have a project that requires shoring in Coogee, then look no further than Eastside piling. Our past work, experience, skills, customer service, and communication shall surely help you carry out shoring in an extremely safe, efficient, and cost-effective manner.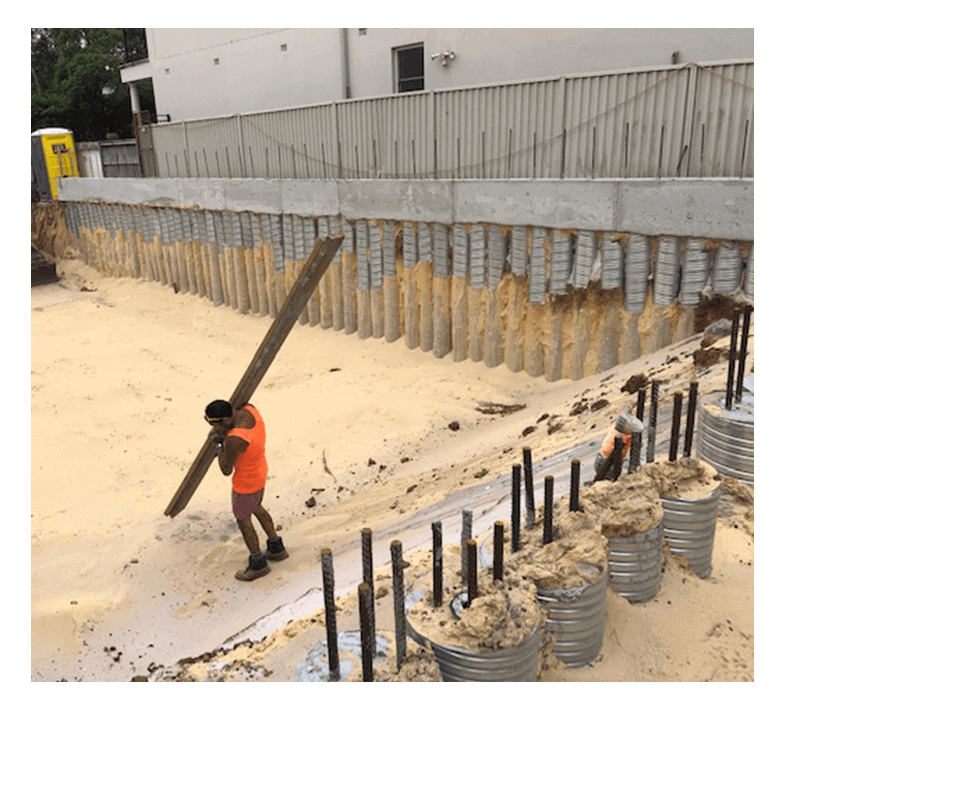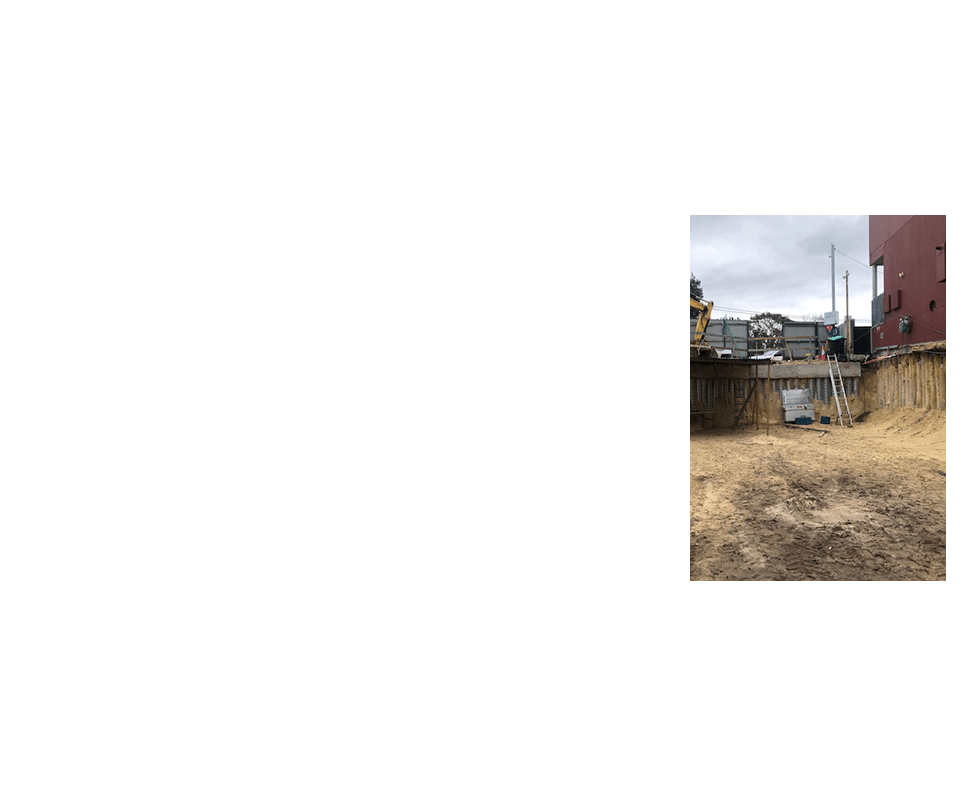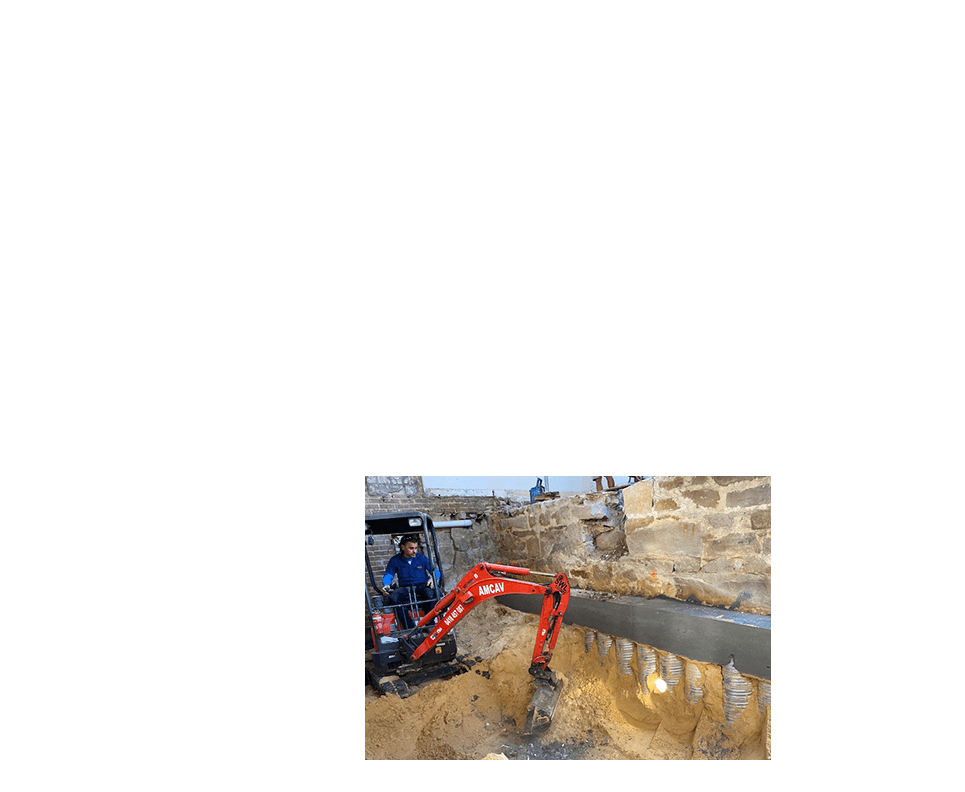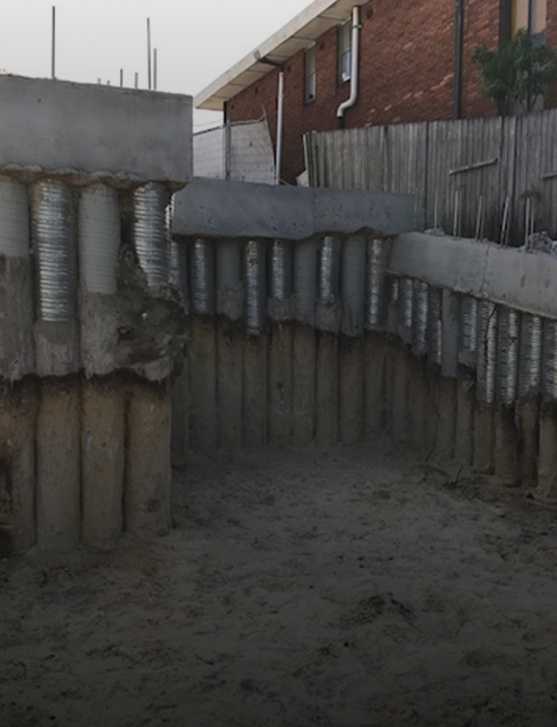 Contiguous Piling
Contiguous Piling is most commonly used as a retaining wall all around the perimeter of a new structure or site. Contiguous piles are a series of closely aligned piles that help form a retaining wall....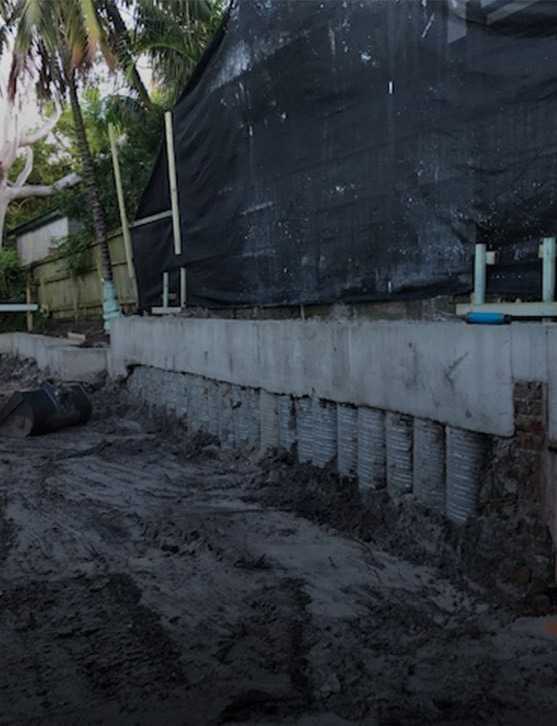 Underpinning
Underpining extends the depth and creates support below the ground for an existing structure without damaging it. Underpinning is usually needed when the original foundation is unable to support the structure or building or when the use of the structure has changed...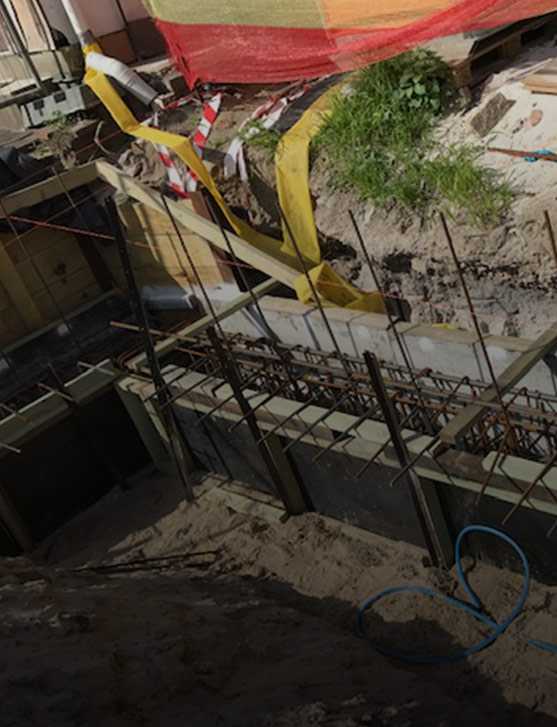 Foundation Piers
Piering (foundation piers) is a form of reinforcing a building that may be suffering subsidence or settlement due to instability in the soil substrate. A pier foundation is the process of using cylindrical columns to provide adequate support to the structure...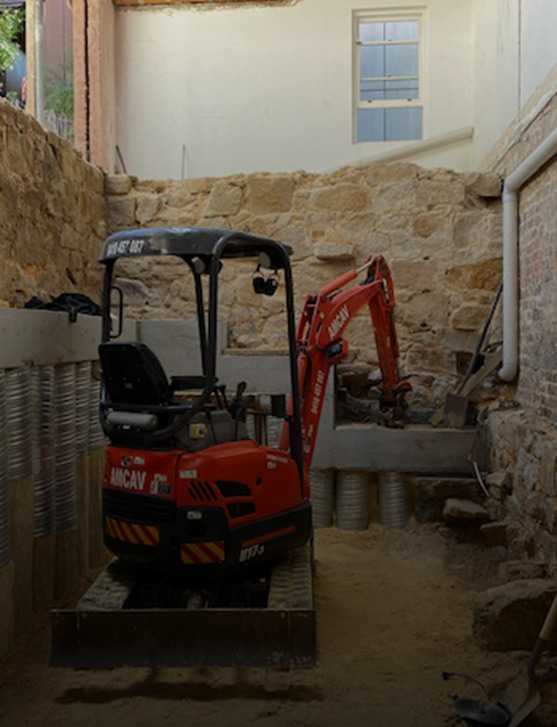 Concrete Pumping
Concrete pumping transfers concrete with a line pump machine to the places where a regular concrete truck can't reach. Eastside Piling is experienced at concrete pumping which is an efficient, reliable method of placing concrete accurately...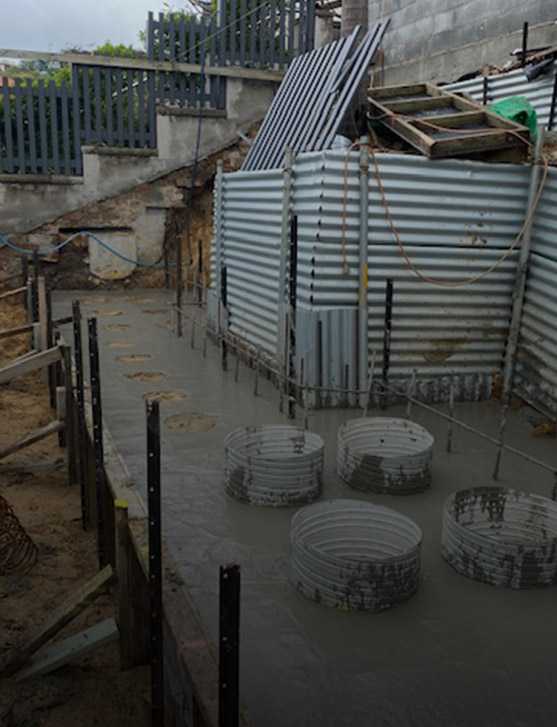 Shoring
Shoring provides support for trench faces and is used to prevent movement of soil, underground utilities and foundations. The shoring process helps temporarily support a building in the process of alterations and may be vertical, angled or horizontal...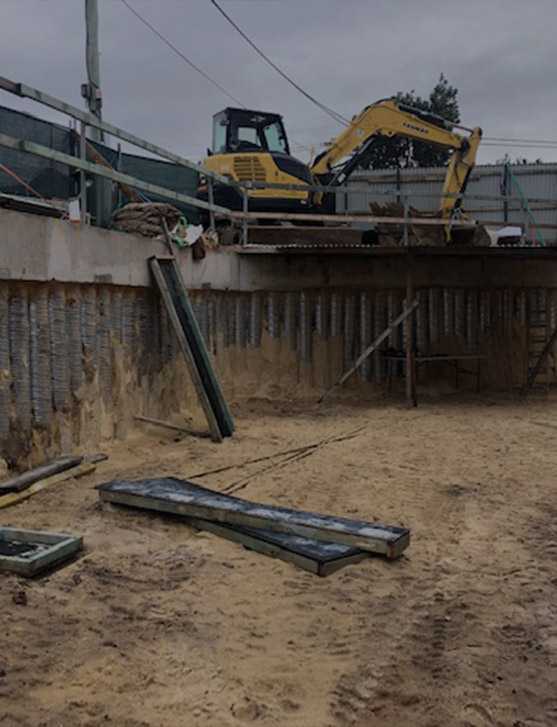 Excavation
When you need to dig a little bit deeper! This is done via excavation. Excavation is the process of shifting earth, rock and other materials or obstacles that need removal before construction can begin. Eastside Piling is qualified in making sure you get the best excavator on-site...
Give us a call to discuss your needs, we are happy to come to site and perform test holes if required. Call us at 0431 278 755
Eastside has experience in nearly all markets throughout the construction industry and understands the unique challenges and requirements associated with each one.





Eastside is able to tap into a wealth of experience, and using proven, best practice methods offer a wide range of geotechnical techniques and the optimum solutions to our clients.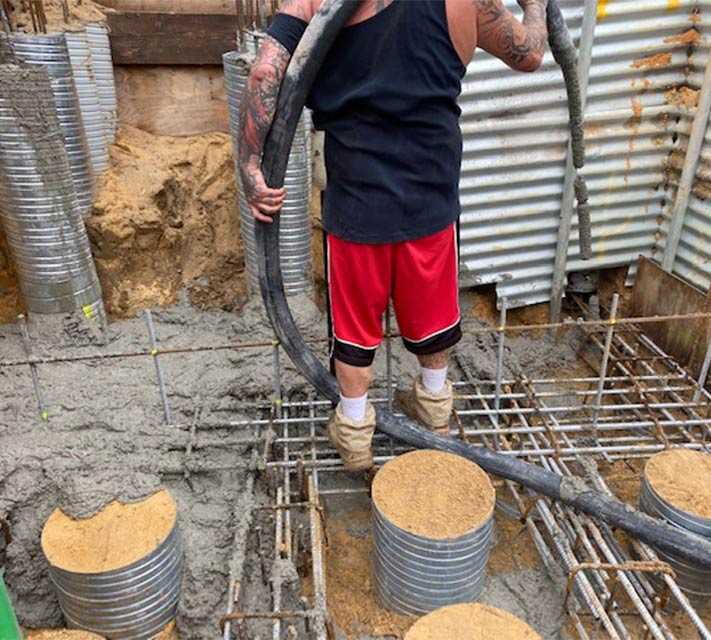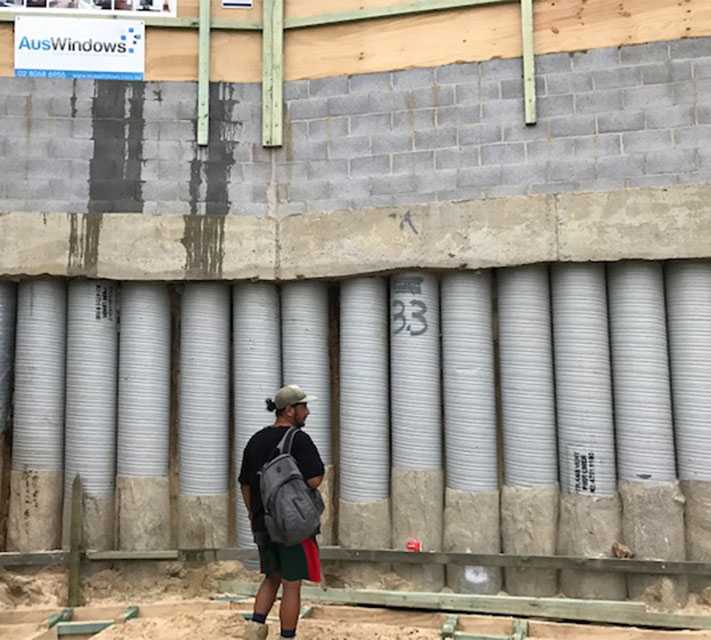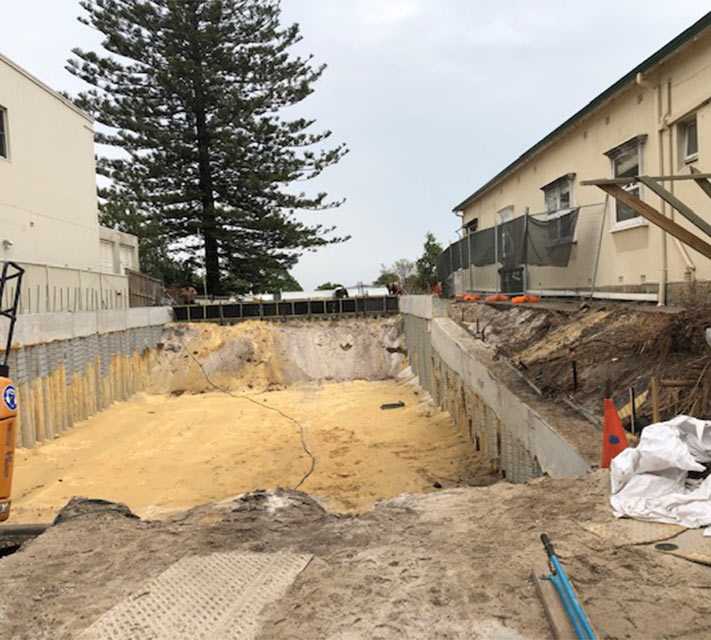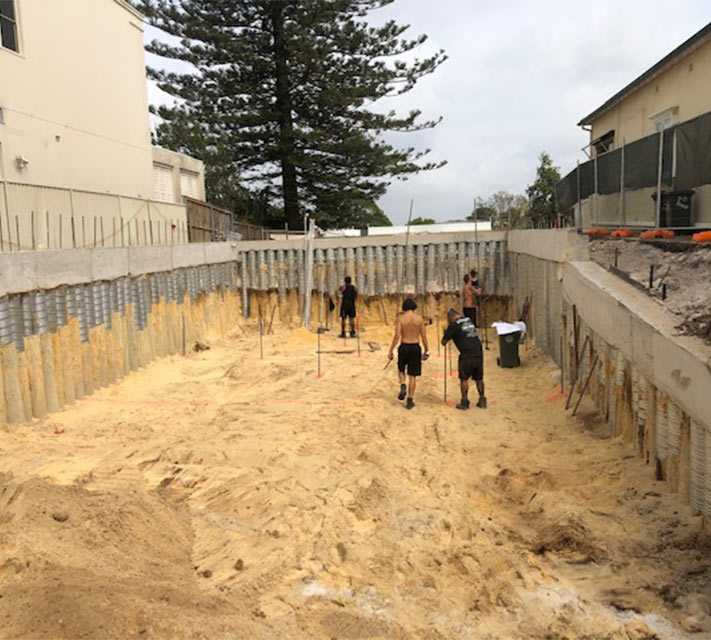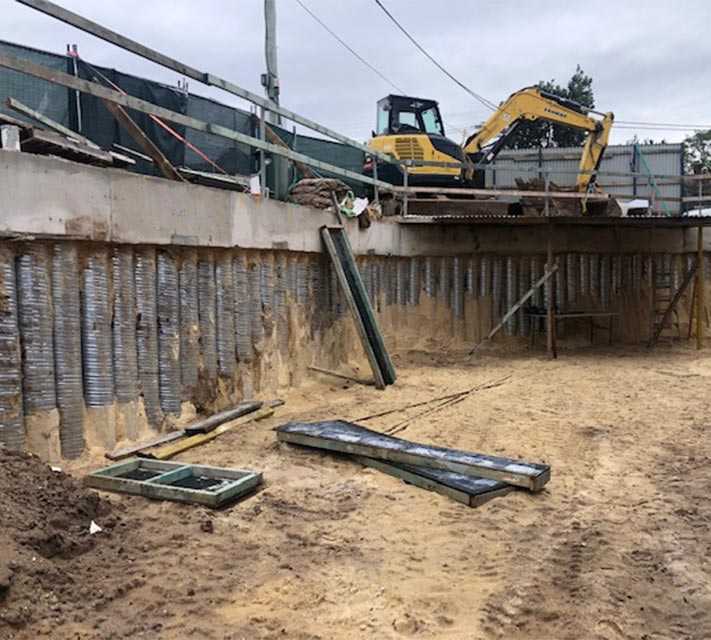 Fernando Barros
I have been the principle of this structural engineering firm for over 20 years now. Many of our design projects have included underpinning, piering and shoring works. Throughout the years we have encountered Robert and the boys from Eastside Piling carrying out these works on many of these projects. I have always found them to be competent and responsible. I would have no hesitation (and often do) recommending Eastside Piling for the above works.
Fernando Barros
F&L Building Consultants Pty Ltd
Ross Georges
I have employed the services of Eastside Piling on several of our building projects. I have found them to be competent in piering, shoring, dewatering and all other works associated with their trade. They pre-plan well in advance and have adequate equipment to carry out the activity at hand. They work in a safe manner and fully respect the dangers that come with this type of work. I personally highly recommend their services and look forward to working with them in the near future.
Ross Georges
Kingport Pty Ltd
Andrew Simpson
We have acted as structural engineers on a number of projects in which Eastside Piling have carried out piering, shoring and underpinning works. Robert Smyth was responsible for overseeing the work carried out by Eastside Piling, and we found that he was extremely competent with a good understanding of the building process and the works that he was involved with.
Andrew Simpson
Simpson Design Associates
Arslan Dursun
I have used the services from Eastside Piling and have found the company to be professional, reliable and very competent in this type of work. I would have no hesitation in recommending Eastside Piling.
Arslan Dursun
Softstone Construction
Mark Walker
We have completed various civil projects together in recent years requiring the construction of contiguous pier walls including the capping/tie beams, and the supply and installation of temporary and permanent anchors and structural steel bracing. Eastside Piling have always proven to be a reliable and competent civil contractor.
Mark Walker
MacDonald Contracting Australia Pty Ltd