Foundation Piers Service in Sydney
Piering (foundation piers) is a form of reinforcing a building that may be suffering subsidence or settlement due to instability in the soil substrate. A pier foundation is a process of using cylindrical columns to provide adequate support to the structure. Foundation piers are also used to support the ground slab for 2nd and 3rd stories.
Foundation Piers provide the much-needed stability to the building and who better to do the job than the ones who excel at it? Eastside Piling amasses the incredible experience of 3 decades in the field. In our time in this industry, we have served innumerable clients on uncountable projects, and we pride ourselves on the fact that there have been no complaints from the clients. Foundation Piers is when a vertical column is installed underground by excavating a cylindrical hole to backfill it with concrete.
Perks Of Foundation Piers
Foundation Piers consists of all sorts of advantages, and we will help you make a better decision by listing some of them:
There are not many materials and labours involved and everything is available with ease, resulting in lesser costs.
Changes in the design can be made at any time if required.
There is no need for extensive excavation and excessive concrete, saving you a lot.
Concrete Piers are a sort of Foundation Piers that depends on the stratum level. Concrete Piers can be used when there is a proper stratum up to 5mm. Concrete Piers are mostly preferred when working with the foundation piers.
There is minimal disruption to the soil as a shovel is used to excavate. When the life of a building is near the end, it can be restored to its original state easily. 
There is ample space between the ground and house so the work of plumbing and electricity can be done without much hassle.
What Materials Do We Use?
While being equipped with concrete piers, there are various materials required, although they are not many. Brick, wood, concrete are some of the essential ones, although reinforced concrete is the most used one. It is used to provide reinforcement and can handle the exorbitant amount of strains. These cannot be cracked easily yet they are easy to dilute and can be poured into holes. Our team of professionals have an all-round experience of working with foundation piers and they take total safety precautions while working with all types of materials. Eastside Piling will drill down to the rocks or bearings for stabilising or remedying the foundations. Piering is also used to eliminate the settlements of the foundation. Eastside Piling recommends this method for extensions, porches, prefabricated buildings, or decks.
Why Do We Prefer Concrete Piling?
Concrete piles are one of the widely used frameworks in all the categories of foundation, piering and piling. Concrete pilings are commonly used for deep-water foundation construction, multistorey buildings, housing foundations, etc. The concrete piles are basically used for their high load capability, they are water-resistant from additional drainage, and are altogether economical. They come in numerous shapes more likely as steel piles, circular piles, and other materials. It can also be established in a different manner and the most fruitful pile installation technique is pressed concrete pilings. This method allows the pilings to reach the deep ground till the final refusal. We, at Eastside Piling, ensure that the pile is deep into the ground and the foundation can be supported well at an affordable cost.
We have different categories of constructing concrete piles and can install them at a nominal concrete piling cost.
Our customer service team is always available to answer all the queries and provide assistance with all sorts of construction services. Don't stall anymore and get in touch with us to get an impressive concrete piling cost with quality service. Feel free to request a tender or a quote by contacting us on
0431 278 755
or emailing
info@eastsidepiling.com.au
.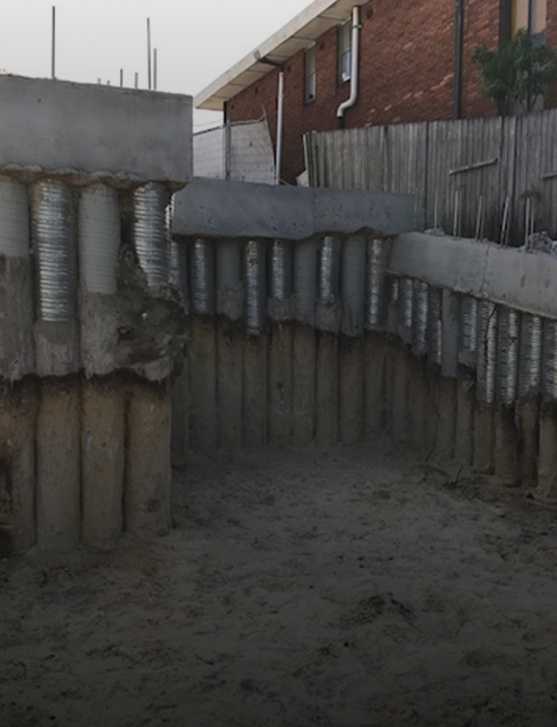 Contiguous Piling
Contiguous Piling is most commonly used as a retaining wall all around the perimeter of a new structure or site. Contiguous piles are a series of closely aligned piles that help form a retaining wall....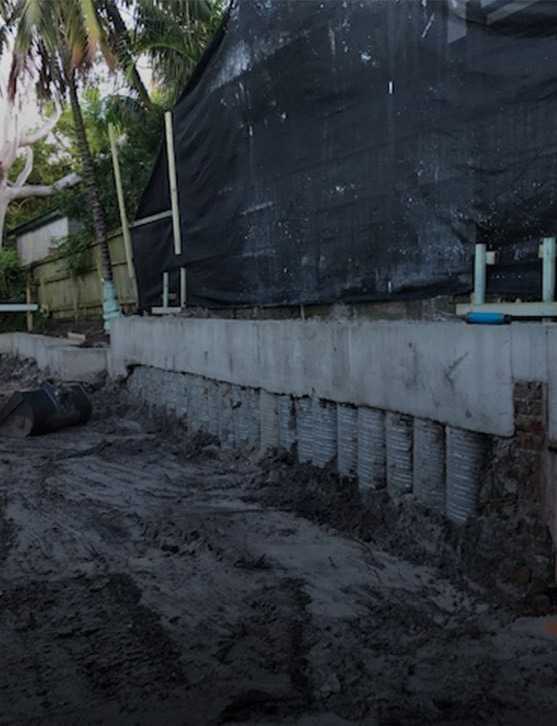 Underpinning
Underpining extends the depth and creates support below the ground for an existing structure without damaging it. Underpinning is usually needed when the original foundation is unable to support the structure or building or when the use of the structure has changed...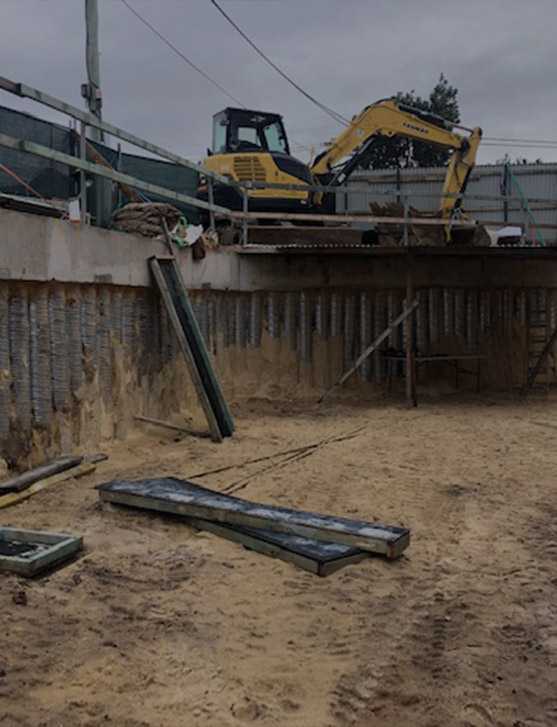 Excavation
When you need to dig a little bit deeper! This is done via excavation. Excavation is the process of shifting earth, rock and other materials or obstacles that need removal before construction can begin. Eastside Piling is qualified in making sure you get the best excavator on-site...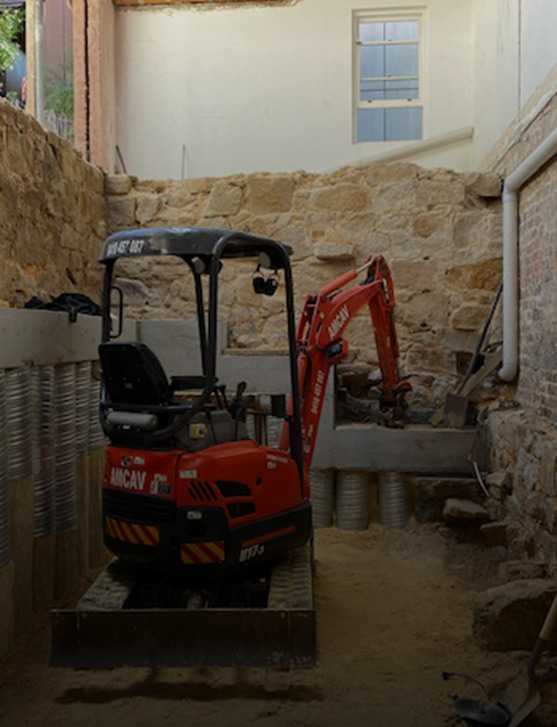 Concrete Pumping
Concrete pumping transfers concrete with a line pump machine to the places where a regular concrete truck can't reach. Eastside Piling is experienced at concrete pumping which is an efficient, reliable method of placing concrete accurately...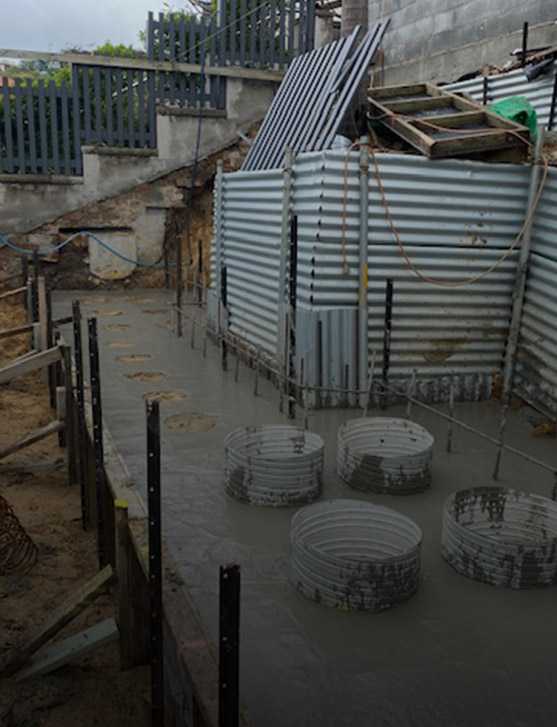 Shoring
Shoring provides support for trench faces and is used to prevent movement of soil, underground utilities and foundations. The shoring process helps temporarily support a building in the process of alterations and may be vertical, angled or horizontal...
Give us a call to discuss your needs, we are happy to come to the site and perform test holes if required. Call us at on 0431 278 755